May 20 2008
Or how I learned to love nettles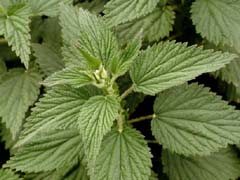 The first summer on our Pacific Northwest island, my husband, while jogging, inadvertently brushed a patch of Urtica dioica, commonly known as stinging nettle. Two years later, the scabs on his calf have still not completely healed. Consequently, I've kept a wary distance from these poisonous plants despite their reputed medicinal and culinary properties.
Until now, that is.
A few weeks ago, a friend introduced me to her friend, Josette, who considers wild plants an extension of her garden. In her pocket she always carries a thick rubber washing-up glove and a plastic bag for carrying home any edible finds, prickly or otherwise, that she encounters on her ambles. "Nettles are nature's tonic," she pronounced. "I add them to my morning smoothie, eat them as cooked greens and infuse them for tea." Not to be outdone — after all, like Josette, I too like to graze, Garden-of-Eden-like, on wild edible greens and berries as I wander through the woods — I put my skepticism aside and decided to try them. "Keep picking the top shoots but stop when the plant is in flower," Josette advised.
Nettles are best in early spring when still small. By now, my nettle patch — the one, in fact, that had stung my husband — was well past its prime, but there were still some branches, including small ones beneath the tall flowering stocks, that hadn't yet flowered and looked about right. I bravely filled a grocery bag, tied it up and put it in the fridge. A few days later, I was ready to try a nettle omelet, following what I could remember of Josette's instructions.
Nettle Omelet
Wear heavy gloves to protect your hands, while you wash and drain the leaves.
Add a generous amount of butter (or cooking oil) to a heavy skillet.
Add a large mound of nettle leaves.
On medium heat, melt leaves down until almost transparent, turning and separating them to make sure all the leaves get cooked. They will reduce to a fraction of their original volume.
Add finely sliced tomatoes, oregano or other fresh herbs, and sauté a minute or so more.
Add beaten eggs (4-8 depending on size of skillet), lower heat, cover until set.
When almost done, put the skillet under the broiler to brown slightly.Sprinkle with grated parmesan cheese (or not) and serve.
Scrumptious! My mother and I were pleasantly surprised at the sweetness of the nettles, which, when cooked, resemble spinach but are much tastier.
Fearing a reaction to nettle toxin and unconvinced that cooking renders nettles harmless, my husband refused to try it, or my delicious nettle-mint tea. (Josette had warned me that nettle tea is too bland on its own and suggested adding other herbal teas to it.)
I'm now a nettle convert. Next spring, I'll start picking the moment the prickly green leaves emerge. By keeping my patch picked, I'll be able to delay their flowering and enjoy a longer nettle season.
For more nettle information: http://www.naturepark.com/snettle.htm
Comments Off on Stinging What?